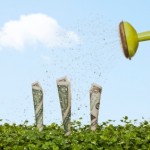 Bill Gates, in his book Business at the Speed of Thought, said "How you gather, manage and use information to serve the needs of your customer will determine whether you win or lose in your business." I happen to think that Bill Gates is a pretty smart guy, so I try to pay attention to what he has to say.
Whether you are a single agent or have a team, whether you use Top Producer, Online Agent, Realty Juggler, Wise Agent, Outlook or something else for contact management, you nevertheless need a good system of categorizing your contacts. And you need to take good care of it!
Here are the categories I use in my database:
Clients: Clients are anyone with whom I have done business with and as a result, earned a commission. I also include my sphere of influence as part of this category.  My sphere of influence includes people who have given me referrals. Members of BNI groups or Rotary Members would go here.
Prospects: Prospects are people I hope to do business with in the future.   This list includes:
CMA Prospects: Anyone I have completed a CMA for, including those "thinking" about putting their home on the market.
Orphans: Those people who bought my listings. They will most likely be ignored by their own agent, so I adopt them.  When it comes time to sell their home, they will remember me because I will be in touch.
Movers and Shakers: Political leaders and organizational leadership like the local Chamber of Commerce.
Family and Friends: They should be on your mailing list too! Sometimes they need to be reminded that you are in the real estate business.
Out of Area: These are clients who have moved out of the area. Because I live in a military community, this category is a great source of referral business and I keep in touch several times a year.
I have other categories, including attorneys, appraisers, mortgage professionals, home inspectors and more, as well as local agents and out-of-area agents. I also have a category called vendors, for people like painters, or cleaners.
I include the obvious under each contact:  Address, phone numbers, e-mail addresses.  And maybe the not-so-obvious, too, like birth dates, children's names, favorite dessert and pet's names. How do we get this information? For all of our clients, we send a VIP form in a self-addressed stamped envelope. I'd say we get 95 percent of these returned.
The overall benefits of having a well-organized database are many, including efficiency, time savings and continuity in communications.
My database is my future business.  I try to take good care of it.