We are happy to partner with these amazing affiliates.
Evernote for Real Estate by Dean Ouellette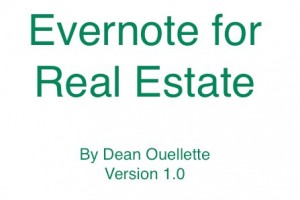 Kim and Linda have both read this ebook by Dean Ouellette and it comes highly recommended. If you are thinking about using Evernote in your real estate business OR if you already use Evernote and want to learn effective how tos and organization tips – you need this book. Download and read on your computer or tablet.
Stop by here to read more and purchase Dean's book: Evernote for Real Estate. It is a value filled $19.95 book!
PS. Let us know what you think and join our Evernote for Real Estate Facebook Group
Evernote Essentials Book by Brett Kelly

One of the most popular books about Evernote on the market today with over 18,000 readers. Evernote even hired the author after reading this book! You can spend hours and hours trying to set up your Evernote without a resource like Evernote Essentialsby your side. Free updates on all future versions included.  Click here to order Evernote Essentials to download for $29.00
Happy Grasshopper Email Marketing


Happy Grasshopper is a great way to stay in touch with your database. Create or import your contact list and every 3 weeks you will have the choice of a fun friendly message to send. Linda, and many others have been using Happy Grasshopper with great success. Linda says, "it is absolutely the easiest way to keep in touch."
Get started by signing up for Happy Grasshopper today.
Moo Cards
Kim and Linda have both been using Moo cards for years. They have an "over-the-top" quality compared to most cards that you hand out and are sure to get saved over the standard ones. They have a heavier stock and the colors are crisp. You can upload your own images or use stock images from Moo. We have used the mini cards, business cards, post cards, and stickers. If you are a new customer, you can get 10% off your first Moo.com order by using this link. Moooooooo!
The One Hour a Day Formula
Featured in a previous Tech Byte Club Book Discussion was the book,  "The One-Hour a Day Formula" by Marelisa Fabrega. This book is available electronically and is a quick read. Marelisa talks about the importance of having goals and a plan in your life and how to work towards accomplishing your goal spending one hour a day. After reading the book, Linda decided to dedicate one hour each morning to work on her blogging efforts. What would you do with a dedicated hour each day?
Click here to purchase for $11.85. Includes a free bonus book as well.