Thank you for having me as your guest speaker this week for the REMDA Luncheon!
Please click the image below to download your gift, our Top List. This list was just updated last month.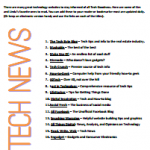 We have a lot more to offer with Club Membership, find more details here: http://TheTechByte.com/The-Tech-Byte-Club.
We offer monthly Tech Tips and events on our Newsletter. Sign up here: http://TheTechByte.com/newsletters (There is even another Top List you can get by signing up!)
Let us know what we can do for you! Enjoy your gift and hope to meet you again sometime.